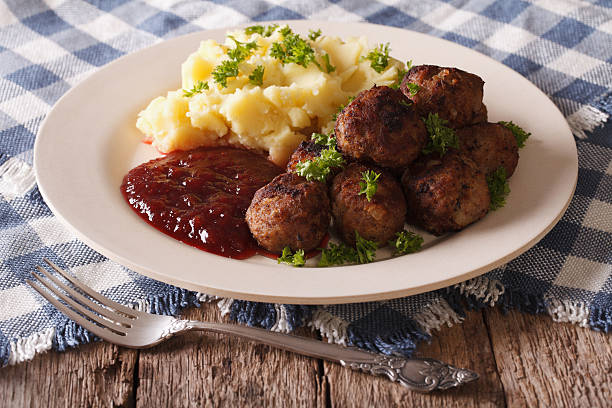 Swedish meatballs, also known as köttbullar, are a traditional Swedish dish that is enjoyed all around the world. The dish consists of small meatballs made from a mixture of ground beef and pork that are seasoned with spices such as allspice and nutmeg, then cooked and served with a rich, creamy gravy.
Swedish meatballs are often served with lingonberry jam, a tart, and slightly sweet fruit preserve that complements the flavors of the meatballs and gravy. Mashed potatoes and a side of vegetables such as green beans or carrots are also common accompaniments to Swedish meatballs
Ingredients:
For the meatballs:
1 lb. ground beef
1/2 lb. ground pork
1/2 cup breadcrumbs
1/2 cup milk
1/2 cup finely chopped onion
1 egg
1 tsp. salt
1/2 tsp. ground allspice
1/2 tsp. ground nutmeg
1/4 tsp. black pepper
For the gravy:
4 tbsp. butter
1/4 cup flour
4 cups beef broth
1 cup heavy cream
1 tbsp. soy sauce
Salt and pepper, to taste
Instructions:
Preheat the oven to 400°F (200°C).
In a large bowl, combine the ground beef, ground pork, breadcrumbs, milk, chopped onion, egg, salt, allspice, nutmeg, and black pepper. Mix until well combined.
Shape the meat mixture into small balls, about 1 inch in diameter.
Place the meatballs on a baking sheet lined with parchment paper.
Bake the meatballs in the preheated oven for 20-25 minutes, until they are cooked through and lightly browned.
While the meatballs are cooking, make the gravy. Melt the butter in a large saucepan over medium heat.
Whisk in the flour and cook, stirring constantly, for 1-2 minutes until the mixture is lightly browned.
Gradually whisk in the beef broth and bring the mixture to a simmer.
Add the heavy cream and soy sauce and continue to cook, stirring constantly, until the gravy thickens, about 5-10 minutes.
Season the gravy with salt and pepper to taste.
When the meatballs are done, transfer them to the saucepan with the gravy and gently stir to coat them in the sauce.
Serve the Swedish meatballs hot, with lingonberry jam, mashed potatoes, and a side of vegetables if desired.
Enjoy your delicious Swedish meatballs!