Peanut butter is a nutritious food that's rich in Fats and Protein, and can trigger weight gain in babies. It's not just sweet but also healthy for any child, the most sweetest of it all is that it could be made in the comfort of your home. Peanut butter is not just good for babies but also gives you the confidence as a mom knowing fully well that your child is on the right track of a healthy meal especially when added into any cereal or pap.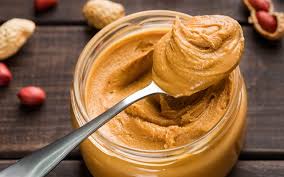 Ingredients:
1 and 1/2  cups of peanuts (groundnut)
3 tablespoons peanut oil or any other oil
2 tablespoon honey
1/4 teaspoon salt.                                 
Preparation Process (Steps to prepare a weight gaining peanut butter for babies
Dry and roast the peanuts in a pan on low to medium flame for 8-10 minutes. Keep stirring the peanuts so that they do not burn.
Rub the peanuts while they are hot with a clean kitchen towel to remove the skin. Place the peanuts in a sieve and shake gently to release any remaining skin bits.
Transfer the peanuts to a food processor while they are warm and pulse a few times until you get a coarse powder.
Run the blender or food processor continuously for 1 minute. Stop and scrape down the sides and bottom of the bowl. At this point, the peanut butter will look dry.
Run the food processor for another 1 minute continuously. Stop and scrape. At this point the butter will start clumping together. Have patience, do not give up. You are almost there.
Run the processor for another 1 minute continuously. Now you will get a thick butter. At this point add the oil, salt and honey.
Continue processing the butter for another 1-2 minutes until you get a smooth peanut butter.
Scrape the butter and transfer it to an air tight jar and refrigerate.