Nigerian Chicken Stew is a delicious sauce that comprises of tomatoes, peppers, fried/grilled chicken & spices. Its mainly serves as a complement to dishes such as rice, beans, yam, potato, etc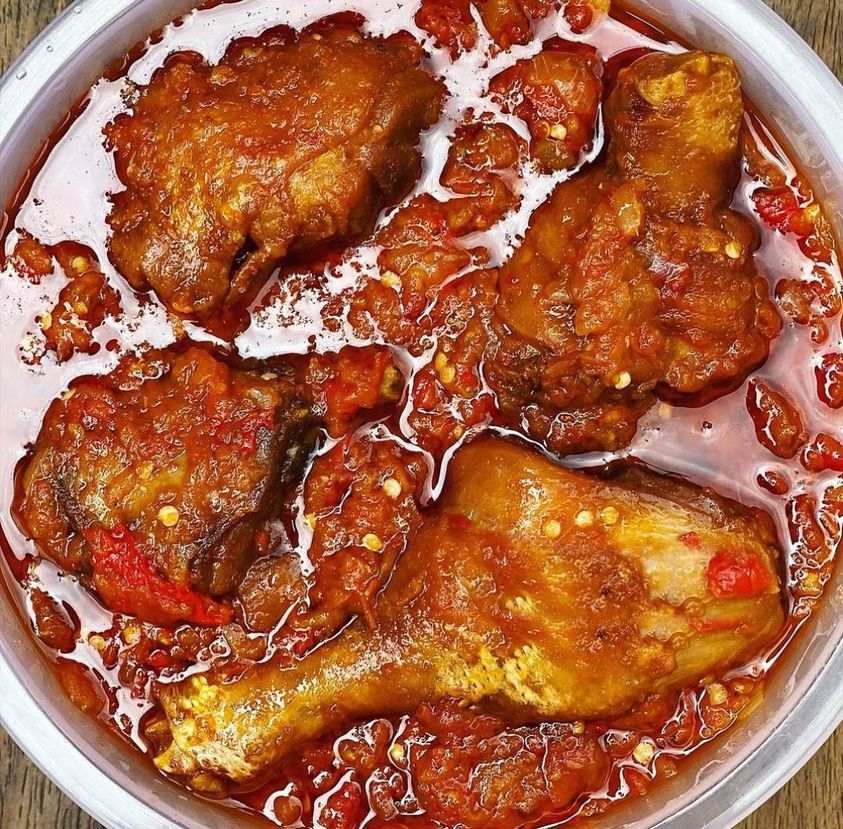 Ingredients:
(For the chicken)
1kg chicken
1 medium-sized onions (sliced)
2 tablespoon garlic powder
1 tablespoon ginger powder
1 tablespoonful oregano/thyme
1 teaspoon rosemary (optional)
1 tablespoon curry
3 tablespoon seasoning powder (to taste)
2 to 3 cups water
(For the stew)
2kg Fresh Tomatoes or tinned tomato puree
5 large bell peppers (tatashe)
5 Habanero Pepper (atarodo)
1 medium bulbs Onion
4 garlic cloves
1 thumb ginger
(blend the 5 ingredients as seen in the video recipe)
500ml Vegetable Oil
1 medium bulbs Onions (chopped)
100g Canned tomato paste (the smallest De Rica brand thick tomato paste (optional)
chicken stock from the boiled chicken in recipe
1 tablespoon Thyme/oregano
1 tablespoon curry
1 tablespoon seasoning powder(to taste)
1 tablespoon seasoning powder
Salt to taste.
Preparation Process (Steps to prepare Nigerian Chicken Stew)
Cooking directions:
1. Place the cleaned cut chicken into a pot, add chopped onions, garlic powder, ginger powder, oregano or thyme, dried rosemary (optional), curry powder, seasoning powder and salt to taste, add a little water.
2. Cook the chicken until tender and fry/grill at 180ºC, then set aside and reserve the liquid (Chicken stock).
3. Blend the tomatoes, peppers, onions, garlic, and ginger; pour into a pot, put on heat to reduce excess water. -Set aside for later use. In another large pot, heat up the vegetable oil, add some chopped onions, add the bay leaf and the tin tomato paste (de Rica) and stir fry for 8 minutes.
4. Pour in the boiled down tomato-pepper mix and fry for about 25 minutes or until the tomato loses it's sour taste.
5. Stir constantly to prevent burning at the bottom. Add the chicken stock, a teaspoon oregano/thyme, a teaspoon of curry powder, Cameroon pepper (optional), and seasoning powder to taste.
6. Mix and boil for 8 minutes. Then add the grilled or fried chicken and simmer for 10 minutes and your Nigerian chicken stew is ready.
Chicken Stew is served with almost anything.