Grilled fish and plantain as we all know is an African-inspired meal, which is loved by everyone especially ladies, Grilling is another method of preparing your fish without having to cook it. In this recipe, I'll be sharing with you the best way to grill your Fish in the oven.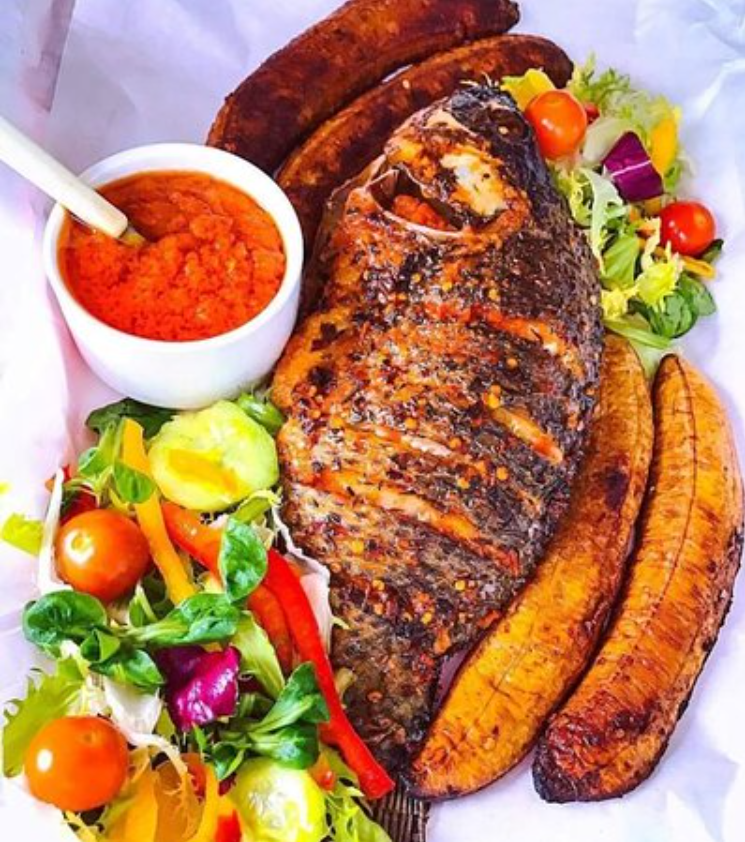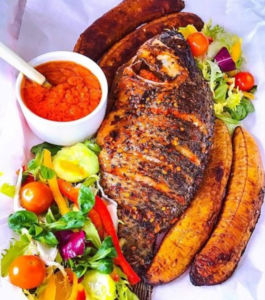 Ingredients
1 whole fish of your choice
2 large ripe plantains
1 large onion, sliced
2 scotch bonnet
1 tbsp minced ginger
1 tbsp minced garlic
1 tbsp thyme
1 tbsp rosemary
1 tbsp fresh lemon/lime juice
1 tbsp cayenne pepper
Seasoning cubes; Maggi/Knorr
1 Red bell pepper
Salt to taste
Vegetable oil
Frying oil.
Method Of Preparation
Wash and clean the fish, remove the scales if it has. Make 4 diagonal cuts on each side of the fish.
Blend the cayenne peppers, thyme, garlic, ginger, rosemary and onions together with the lemon juice. Season fish with the blended mixture. Set aside and allow to marinate for a minimum or marinate overnight.
Once it's marinated for at least 24 hours, pre-heat the grill to 220 degrees/F. On a tray place a sheet of foil, use the foil to create a very loose jacket for the fish. Place the fish in the centre and add any loose garnish that is in the bowl on top.
While the fish is grilling, add the scotch bonnet, bell pepper and garlic into a blender and blend roughly.
Heat up 1 tbsp of vegetable oil into a pan, add chopped onion and sauté. Stir-in the blended mix, seasoning cube and salt to taste.
Fry for about 10 minutes on medium heat. Take out the grilling fish and glide a little of the pepper sauce on both sides of the fish – put it back in the oven to continue grilling. Set remaining pepper sauce aside.
Peel plantains and dice diagonal pieces – sprinkle with some salt. Lower the plantain slices into the oil, reduce heat and fry until they are brown. Do not to burn them. Remove fried plantain from oil with fork and place on paper towels to drain excess oil.
Grill fish for about 30-40 Minutes check the fish – remember to turn the fish over during the grilling process to enable even heat distribution and thorough grilling.
Serve with fried plantain and the rest of the pepper sauce.