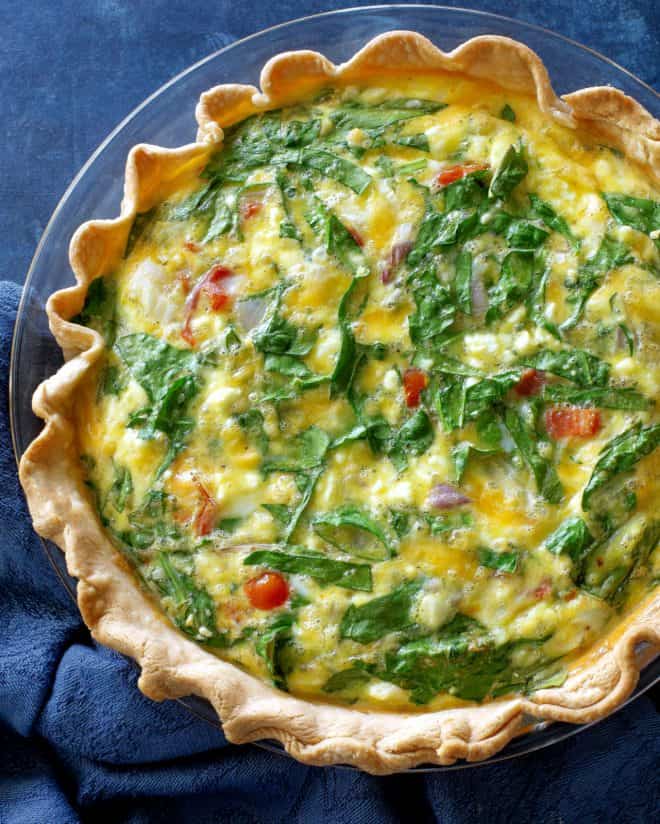 Spinach and Feta Quiche – This quiche is an easy-to-make, crowd-pleasing dish that's perfect for Easter brunch. Mix together spinach, feta cheese, eggs, milk, and a few spices, pour into a pie crust, and bake until golden brown and set.
Ingredients:
1 9-inch unbaked pie crust
4 large eggs
1 cup whole milk
1/2 teaspoon salt
1/4 teaspoon black pepper
1/2 teaspoon dried oregano
1/2 teaspoon garlic powder
1/4 teaspoon red pepper flakes (optional)
1 cup chopped fresh spinach
1/2 cup crumbled feta cheese
1/4 cup grated Parmesan cheese
Instructions:
Preheat your oven to 375°F.
Roll out your pie crust and line a 9-inch pie dish. Crimp the edges of the crust, then place the dish in the fridge while you prepare the filling.
In a large mixing bowl, whisk together the eggs, milk, salt, pepper, oregano, garlic powder, and red pepper flakes (if using) until well combined.
Stir in the chopped spinach, crumbled feta cheese, and grated Parmesan cheese.
Pour the filling into the chilled pie crust.
Bake the quiche for 35-40 minutes or until the filling is set and the crust is golden brown.
Let the quiche cool for a few minutes before slicing and serving.
Enjoy your delicious Spinach and Feta Quiche!